Protecting the pancreas
Professor Sarah Richardson's Senior Research Fellowship project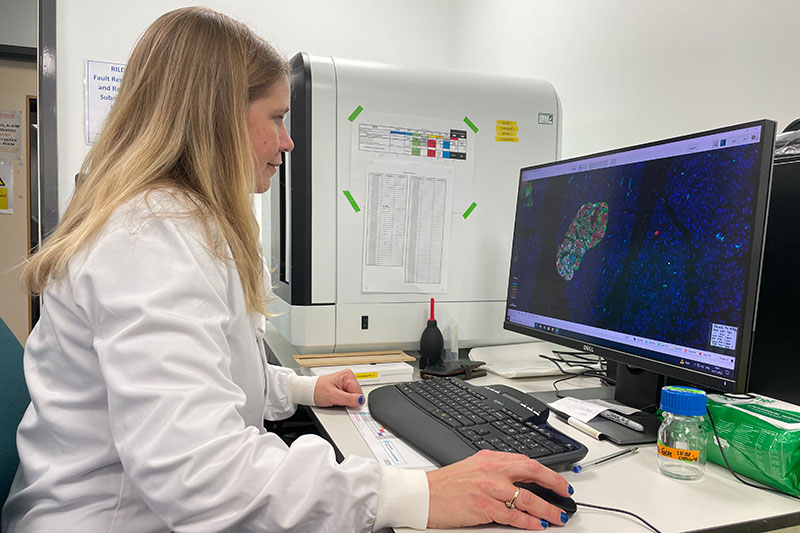 Professor Sarah Richardson co-leads the Islet Biology Team at the University of Exeter Medical School. She has been researching diabetes since 2007 and is one of the Senior Research Fellows for the Type 1 Diabetes Grand Challenge. Her project will investigate how and why the immune system destroys insulin-producing beta cells in type 1 diabetes, and how the process may differ between people with the condition.
Are there different types of type 1 diabetes?
In her previous research, Sarah showed that the biological processes driving the development of type 1 diabetes are not the same in everyone with the condition and there are different subtypes of type 1 diabetes. She found that the number and type of immune cells that children with type 1 have are different to those present in people diagnosed in their teens or older. When people are diagnosed with type 1 at an older age, they have more beta cells than expected. Sarah thinks this is because some of their beta cells are dysfunctional rather than destroyed.
In this project, Sarah will study pancreas samples taken from people at the early stage of type 1 development to look at differences between people in how their immune system attacks and destroys beta cells. This research will allow the subtypes of type 1 to be better defined.
How will defining subtypes help people with type 1?
Knowing the form of type 1 an individual has could help tailor how their diabetes is treated and managed. Sarah's previous research suggests that the effectiveness of immunotherapy drugs for type 1 will be dependent on their specific form of type 1 diabetes. Sarah hopes to learn more about which treatments might work best for different people by examining how immunotherapy drugs work in each form of type 1. With this knowledge, scientists will be able to work on creating an armoury of new treatments that target different lines of the immune system's attack, so everyone affected by type 1 can be matched to the best treatment for them.
Understanding how beta cells defend themselves
Sarah will also explore how beta cells can fight back against the immune attack and why beta cells in some people with type 1 can survive for many years after their diagnosis. She will use pancreas samples from people with type 1 to explore how beta cells (and the pancreatic islets they are located within) defend themselves against the immune system. To do this, she will use state-of-the-art imaging equipment to look at the samples as well as growing systems of living beta cells and immune cells in the lab. Sarah will investigate a protective layer that surrounds beta cells, called the basement membrane, to understand more about when and how it develops. She'll also identify molecules made by beta cells that can fortify them against the immune attack.
How will understanding how beta cells defend themselves help people with type 1?
It is hoped that these insights will be used to develop new treatments to shield beta cells from the immune system attack in type 1 diabetes. If combined with treatments to replace damaged and destroyed beta cells with healthy lab-grown versions or islets from organ donors, this could be a potential cure for type 1 diabetes
Professor Sarah Richardson said:
"As a scientist, one of the things that interests me about diabetes is the way it affects people in extremely different ways. My fellowship will explore how the early development of the pancreas may influence the form of type 1 diabetes a person develops. Ultimately, this will help us tailor existing and emerging therapies to the individual, maximising the benefits for people with type 1 diabetes.

"I also aim to develop a better understanding of how beta cells can protect themselves from the immune attack, which not only holds huge promise for improving beta cell replacement strategies but has the potential to bring us closer to a cure."