The Grand Challenge makes its mark at DUKPC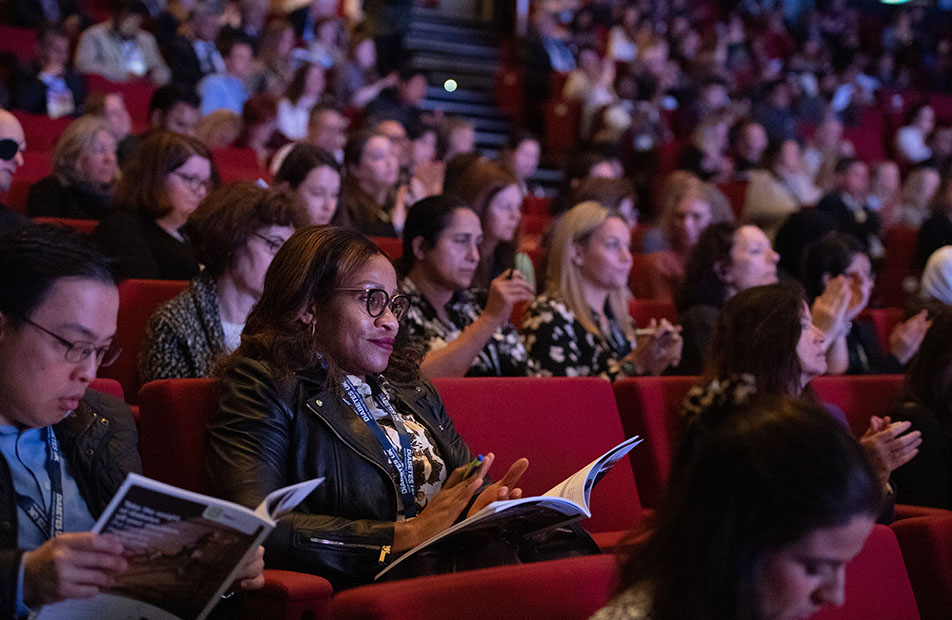 Ambition, innovation and collaboration are at the heart of the Type 1 Diabetes Grand Challenge. It is supporting research of greater scale, bringing the world's best scientists together to kick-start new areas of exploration and innovative thinking. At the Diabetes UK Professional Conference this April, the Vice Chairs of the three Scientific Advisory Panels came together to talk about the current research in the three Grand Challenge areas: replacing beta cells, novel insulins and root causes of type 1, and how the Steve Morgan Foundation's £50 million investment could accelerate discoveries in these areas. Professor Simon Heller, Chair of the Scientific Advisory Panels, and Liam Eaglestone, CEO of the Steve Morgan Foundation, chaired the session.
Bringing beta cells back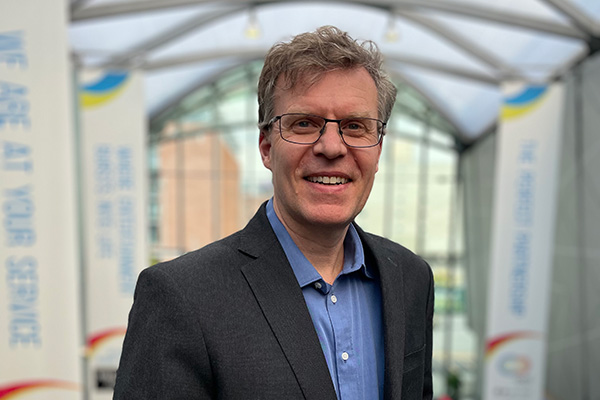 Professor Matthias Hebrok, the Vice Chair of the Beta Cell Therapies Scientific Advisory Panel.
Beta cell therapies are one of the biggest hopes for a cure for type 1 diabetes. From harnessing stem cell technology to make insulin-producing beta cells in the lab to mobilising microparticles that brings islets back from near death, the aim is to replace or revitalise beta-cells that have been destroyed by the immune system so that people with type 1 diabetes can make their own insulin again.
Professor Hebrok said:
"We've come a very long way in a relatively short amount of time. We're moving to the point where we will be able to help more and more people with this therapy."
Making strides with stem cells
Professor Hebrok described the incredible progress in stem cell technologies that is allowing scientists to make an unlimited supply of beta cells in the lab. Most cells in our body have one job to do, but stem cells are different. If nudged in the right direction, they can shape-shift into any cell type in the body, including beta cells.
Professor Hebrok outlined how beta cells made from stem cells in the lab aren't perfect yet, and don't work as well as 'real' beta cells at responding to changing blood sugar levels. He assured us that scientists around the world are on the case, figuring out how to optimise 'superhero' beta cells.
Keeping beta cells safe
Another challenge is to stop the immune system identifying "foreign" stem cell derived beta cells as harmful invaders, so they have better chance of surviving when transplanted into people with type 1 diabetes. Professor Hebrok talked about an emerging area of research called 'immuno-cloaking' that could help overcome this complex problem. Immuno-cloaking uses gene-editing technology to alter the DNA of a cell with extreme precision, allowing the stem cell derived beta cells to remain hidden from the immune system's attack.
Professor Hebrok highlighted that cutting-edge stem cell nanotechnology, a new, exciting interdisciplinary frontier in material science and regeneration medicines, could lead to new ways to monitor the effectiveness of stem cell transplants in real-time, allowing scientists to optimise the success of beta cell therapies. "This research is now a confluence of not just biochemistry, cell biology, and stem cell biology but we're also now talking about nanotechnology, about artificial intelligence and robotics. All these ideas need to flow together, and the Grand Challenge will allow us to do this."
As type 1 diabetes moves closer to this new era of treatment, Professor Hebrok closed the session by reminding us how important maintaining a register of people with the condition is for allowing us to fast-track these cutting-edge therapies into clinical trials.
Find out more about beta cell therapies.
Novel insulins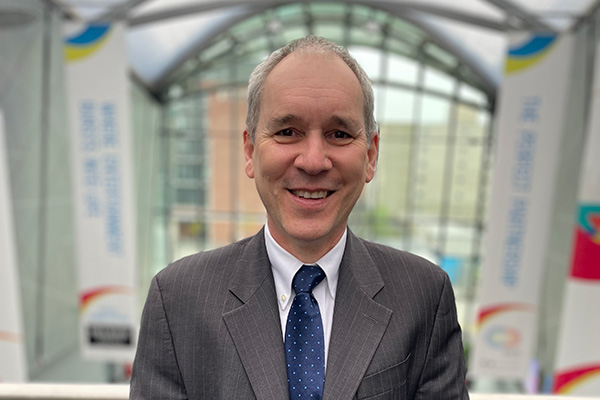 Dr Tim Heise, Vice Chair of the Novel Insulins Scientific Advisory Panel, gave an overview of how novel insulins work.
The term novel insulins describes both ultra-fast insulins and 'smart' glucose-responsive insulins, which are switched on when glucose levels reach a certain level.
Dr Heise explained how the first paper about 'smart' glucose-responsive insulins was published over 40 years ago, but only one clinical trial testing a smart insulin in humans has been published since. We hope that the £15m dedicated to accelerating novels insulins research by the Grand Challenge will unleash the potential of next generation insulin therapy.
The problem with existing insulins
Dr Heise said:
"We currently give insulin in the wrong place, at the wrong time, and in the wrong amounts. It's a real challenge, which no one has overcome yet."
He explained that glucose-sensitive insulins could address the issues with time and dose, and insulins that can be taken orally, or that work best in the liver, could hold the key to getting insulin to the right place.
Ideas for new smart insulins
Dr Heise described different approaches that could create glucose-responsive insulins. One potential method is to trap insulin in synthetic doughnut shaped molecules called liposomes. When glucose binds to the outside of them, the insulin would be released. Another possible way is to make insulin and glucose compete to bind to the same molecule so that when glucose levels are high, insulin is free to do its job but when glucose levels are low, insulin is stuck to the molecule and unable to function.
A different idea is to use microneedles that poke just through the skin and store insulin and then release it when glucose levels increase. An area Dr Heise is particularly optimistic about is dual hormone microneedles, which use both insulin and glucagon to carefully balance blood glucose levels and avoid hypos.
"The Grand Challenge will make a real difference by promoting these smart insulin ideas as well as new ones and could be the crucial push to deliver game-changing insulins", Dr Heise concluded.
Find out more about novel insulins.
Root causes of type 1 diabetes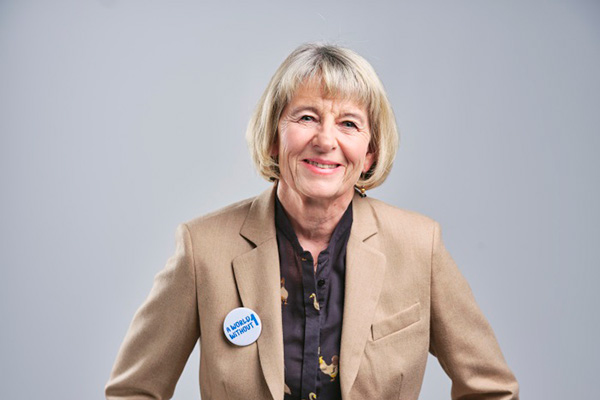 Professor Anette-Gabriele Ziegler, Director of the Helmholtz Munich Institute of Diabetes Research, presented on root causes of type 1 diabetes.
The stages of type 1 diabetes
Professor Ziegler began her talk by describing the stages of type 1 diabetes – from genetic predisposition, through biological markers, to changing blood glucose levels and ultimately the appearance of symptoms of type 1 diabetes leading to its clinical diagnosis. Screening for type 1 identifies people in the stages before clinical diagnosis and can reveal insights into how the condition develops and how to treat it.
Immunotherapies
Immunotherapies reprogramme the immune system so that it no longer attacks and destroys insulin-producing beta cells in the pancreas. They can help to delay type 1 diabetes and, in combination with beta cell therapies, it is hoped that one day they will be part of a cure.
The first licensed immunotherapy for type 1 diabetes, teplizumab, delays progression of type 1 in people in its earliest stages.
Professor Ziegler said:
"Teplizumab is a milestone therapy and the beginning of a new era in type 1 diabetes treatment."
Because of the lack of symptoms in early-stage type 1, the only way to find people eligible for immunotherapies like teplizumab is through screening studies.
Screening studies from around the world
Professor Ziegler shared findings from screening projects from around the world which have provided insights into the root causes of type 1. Researchers from the Fr1da Study are narrowing down subgroups of people who would benefit most from immunotherapies, and at which stage of type 1 they would have the most impact.
Findings from the TEDDY Study identified that the peak of autoimmunity, when the immune attack is at its worst, is around one year of age, with markers of immune attack visible even earlier. These findings show that interventions to prevent type 1 should ideally happen at a very young age, information which can help shape the Grand Challenge projects.
The European pre-T1D registry was recently established to hold data of over a thousand people with early-stage type 1 diabetes. This database gives researchers the unique opportunity to monitor these people and understand factors that influence progression of the condition.
All this existing research from international screening projects, as well as ongoing screening and immunology studies, provides a foundation for research into the root causes of type 1 as part of the Grand Challenge.
Find out more about our challenge to stop the immune attack in type 1.
The Type 1 Diabetes Grand Challenge is privileged to be supported by international scientific advisors, world-class diabetes researchers, interdisciplinary collaborations and a community who are committed to improving the lives of people with diabetes. The DUKPC session gave us a taste of things to come, and we can't wait to see where the research takes us.