Type 1 Diabetes Grand Challenge invests £5 million to kick off the race towards a cure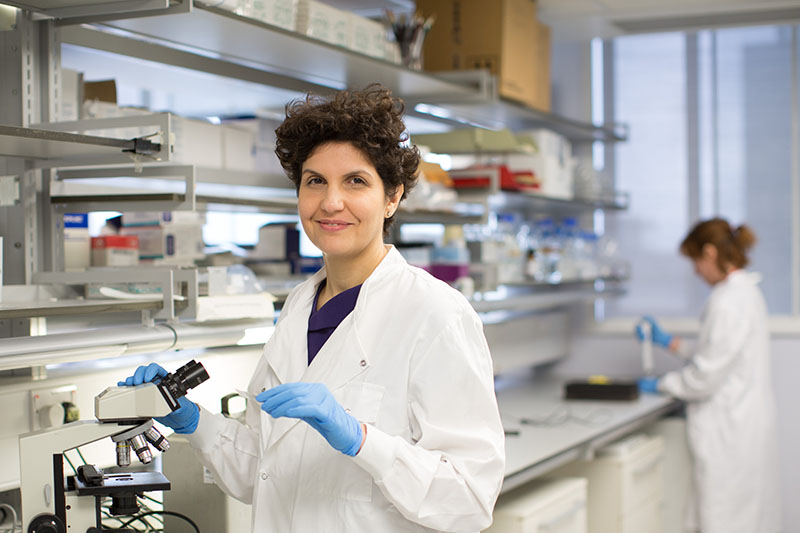 We're excited to reveal the first research projects funded by the Type 1 Diabetes Grand Challenge. £5 million of funding will support a trio of exceptional scientists to develop new and improved treatments for type 1 diabetes and marks the start of a £50 million programme of research that will propel us towards a cure.
The Type 1 Diabetes Grand Challenge – a partnership between the Steve Morgan Foundation, Diabetes UK and JDRF – has been calling on scientists to submit research proposals to our Senior Research Fellowship, with the potential to transform our understanding of type 1 diabetes and how to cure it.
After a rigorous review process, bringing in expert insight from people with type 1 diabetes and world-renowned scientists, we're delighted to award three new fellowships. The awards of between £1.5 and £2 million go to scientists in different corners of the UK, who will each solve different problems that could unlock life-changing new treatments for type 1. None of this would be possible without the Steve Morgan Foundation's landmark £50 million investment.
The fellowships focus on two of the Grand Challenge's research areas:
Understanding the root causes of type 1 diabetes and how to stop the immune attack
Developing treatments to replace or rescue insulin-making beta cells
Let's meet our new Grand Challenge Fellows.
Breathing new life into beta cells
Dr James Cantley is a Senior Lecturer at the University of Dundee, with 20 years' experience investigating how beta cells function.
His Type 1 Diabetes Senior Research Fellowship aims to develop new drugs to help people with type 1 diabetes grow back their own beta cells. This approach could avoid problems with the immune system rejecting transplanted 'foreign' donor or lab-made beta cells and allow the pancreas to produce its own insulin again.
Dr Cantley is particularly interested in how beta cells form in the womb, by a process called neogenesis. He will work to identify new drugs that could reactivate this process in the pancreas of adults.
Dr Cantley will study how well these potential new therapies regenerate beta cells in the lab. He will home in on the most promising ones and test these in mice with type 1 diabetes to check if the drugs can reduce the need for insulin.
Along with finding ways to trigger new beta cells to grow in the pancreas, Dr Cantley will also explore potential approaches to 'clone' beta cells from those that have been able to survive the immune attack. Promising results here could open the door for clinical trials to testing new treatments in people with type 1 diabetes.
Dr James Cantley said:
"Regenerating beta cells in the pancreas has the potential to revolutionise the treatment of type 1 diabetes, by replacing cells destroyed by the immune attack, and ultimately leading to stable blood sugar levels and a life free from insulin injections. However, there are many obstacles to developing successful therapeutic strategies.

"To overcome these, I have put together an ambitious, future-focused project and an outstanding international team of scientists which, with the support and funding from the Type 1 Diabetes Grand Challenge, will enable us to focus on our mission of identifying new strategies to drive beta cell regeneration in the pancreas. We are on the cusp of a new era of type 1 diabetes treatment, and I can't wait to see where this research takes us."
Find out more about James' Senior Research Fellowship project.
'Printing' a safe haven for beta cells
Dr Victoria Salem is a diabetes consultant and scientist who runs a research laboratory in the Department of Bioengineering at Imperial College London. She is an expert in developing state-of-the-art imaging techniques to study how beta cells work.
Dr Salem joins the race for a cure for type 1 diabetes with her plans to develop a device that can be implanted into people with type 1 diabetes to deliver a new supply of beta cells.
Scientists can already create new beta cells in the lab from stem cells. But to survive and function well once they're transplanted into people with type 1, the cells need:
a constant supply of oxygen, nutrients and blood
to be protected from the immune system's attack
Dr Salem will innovate a new jelly-like protective barrier, within which clusters of beta cells will sit. The barrier will act as a shield to block attacking immune cells, while still letting in vital nutrients the beta cells need to survive.
Dr Salem will create this using a new technology called 'Extrusion Bioprinting'. Imagine a colour inkjet printer – nozzles eject different coloured ink onto the paper, line by line, to build up a picture. The nozzles of the bioprinter contain jelly-like substances and a precise mix of cells which will 'print' the new beta cells inside their protective device.
She'll test the implant in mice to build the evidence needed to take it into clinical trials with people with type 1 diabetes.
Dr Victoria Salem said:
"There are so many hurdles to creating a successful cell-transplant for people with type 1 diabetes. We can only crack this by working together – building fruitful collaborations across disciplines and the Grand Challenge is providing the boost we need to mobilise the best scientists in the UK towards this cause!

"I will lead a team of outstanding researchers, and international collaborators, to engineer improved beta cell replacement technologies.

"The dream for a cell cased cure for type 1 diabetes is now tantalisingly close – I'm so excited and honoured to be a part of this journey."
Find out more about Victoria's Senior Research Fellowship project.
Protecting the pancreas in type 1 diabetes
Professor Sarah Richardson is an Associate Professor in Cellular Biomedicine at the University of Exeter, who has spent 16 years studying rare pancreas samples from people with type 1 diabetes.
As one of our new Type 1 Diabetes Senior Research Fellows, Professor Richardson will probe how and why a person's immune system destroys their own beta cells and how this process may differ between people with type 1 diabetes.
She will study the pancreas in minute detail, using powerful microscopes to tease apart differences between people with type 1 in how their immune system attacks and destroys beta cells. With this knowledge, scientists will be able to work on creating an armoury of new treatments that target different lines of the immune system's attack, so everyone affected by type 1 can be matched to the best treatment for them.
Prof Richardson will also explore how beta cells can fight back against the immune attack and why beta cells in some people with type 1 can survive for many years after their diagnosis. She'll investigate a protective layer that surround beta cells, called the basement membrane, to understand more about when and how it develops. She'll also identify molecules made by beta cells that can fortify them against the immune attack and explore if we could help beta cells make more of them.
These new insights could be used to develop new cell replacement treatments, designed to shield the new beta cells from the immune system.
Professor Sarah Richardson said:
"As a scientist, one of the things that interests me about diabetes is the way it affects people in extremely different ways. My fellowship will explore how the early development of the pancreas may influence the form of type 1 diabetes a person develops. Ultimately, this will help us tailor existing and emerging therapies to the individual, maximising the benefits for people with type 1 diabetes.

"I also aim to develop a better understanding of how beta cells can protect themselves from the immune attack, which not only holds huge promise for improving beta cell replacement strategies but has the potential to bring us closer to a cure."
Find out more about Sarah's Senior Research Fellowship project.
Dr Elizabeth Robertson, Director of Research at Diabetes UK, said:
"We are thrilled to introduce the first scientists who will be spearheading the Grand Challenge's mission to deliver transformational new treatments and bring fresh hope of a cure for everyone living with type 1 diabetes."

"The exceptional new Type 1 Diabetes Senior Research Fellows are all tackling this challenge in inventive and collaborative ways, at the forefront of cutting-edge science. We can't wait to watch them develop into global research leaders of the future and see how their discoveries will drive radical change for people with type 1 diabetes."
Rachel Connor, Director of Research Partnerships at JDRF UK, said:
"We are delighted that the Type 1 Diabetes Grand Challenge is getting off to such strong start, providing three Senior Research Fellowships. The ambitious research projects will accelerate us towards much needed cures for type 1 diabetes, driving change for people who live with type 1 diabetes.

"Each Senior Research Fellow is bringing their skills and creativity to specific challenges in tackling type 1 diabetes, from the destructive dance of the immune system and beta cells that drives type 1 diabetes, to the challenges of regrowing beta cells in the body, or developing new ways to help transplanted cells survive in the body. We're excited to see how these emerging leaders will drive progress as part of the worldwide community of scientists dedicated to curing type 1 diabetes."
We'll keep you updated with the progress of these exciting projects, as our Fellows start their research and kick off the Grand Challenge's race to find new treatments and ultimately a cure.