"Thank you" from a Grand Challenge researcher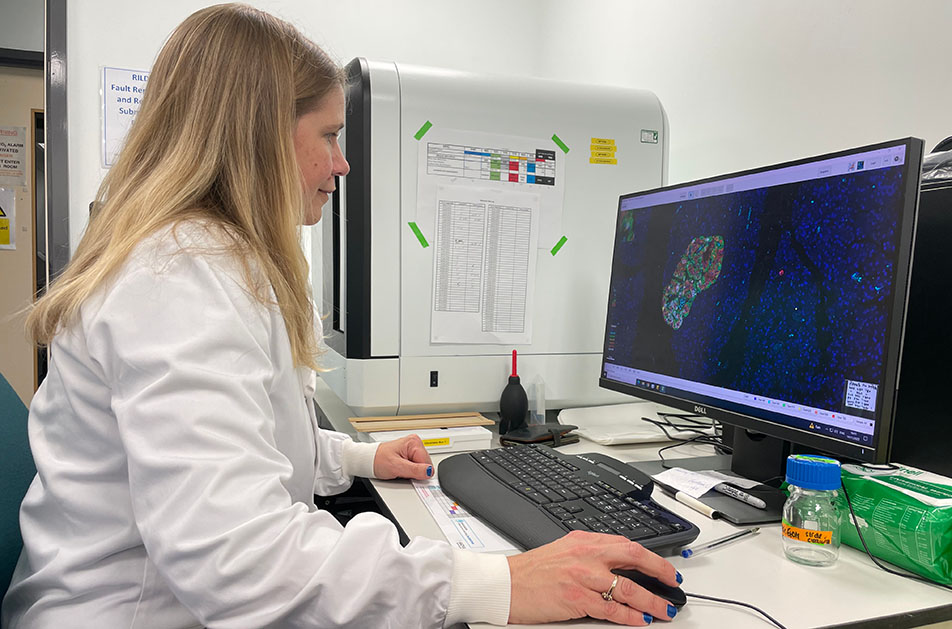 The Type 1 Diabetes Grand Challenge is funding £50 million of research to propel us towards a cure and to change the lives of people living with type 1 diabetes. But the partnership has also been life-changing for the researchers who've been awarded Grand Challenge funding.
Earlier this year, Professor Sarah Richardson became one of the first exceptional scientists to receive Type 1 Diabetes Grand Challenge funding.
She's already made tremendous progress, recruiting staff, setting up her lab, forming collaborations and finalising publications. And she still made time to tell us just what our funding means to her and how the Grand Challenge is building a culture that allows UK type 1 diabetes research to thrive.
"This funding has undoubtedly transformed my research and enthusiasm for life and helped me to build a solid team to push forward our important research."
"The funds have already made a difference to me, to my team, to UK researchers and most importantly, I know this will ultimately make a difference for people living with type 1 diabetes. Thank you for making this possible."
Before the fellowship, the demands of her job, gave her little time to focus just on research – but thanks to the Grand Challenge, this has changed beyond recognition.
"There were not enough hours in the day, days in the week and weeks in the year. The pressures were such that I was seriously considering what other options were out there for me. Something I was saddened by as my spark comes alive when I have the opportunity to work in this most important of areas, alongside colleagues who are equally driven and motivated by our common want to change lives for the better."
"Every day is exciting. We are learning new things, developing new skills – I have learnt how to code – to improve our capacity to deal with large, complex datasets."
Her team immediately swung into action.
"The team have leapt into the project with curiosity and drive, working carefully and conscientiously to advance our knowledge. I am so proud of how their knowledge and skills are developing, and this supportive environment encourages each of them to push their limits."
But Sarah and her amazing team haven't stopped there. Thanks to the Type 1 Diabetes Grand Challenge, they've been forging new collaborations with other world-leading teams to help translate what they've learned in the lab to people with type 1 diabetes.
"The Grand Challenge calls have got people talking, communicating and networking on a whole other level. The excitement and hope this has generated is palpable, and I am so excited to see the outcomes of this over the coming years."
You may also be interested in